This week, the theme is questions about Dad, with an extra bonus question.  Jana was genuinely upset that there weren't anymore questions.  She likes these small interviews.  But, since we want them to be more spontaneous, we can't have interviews all the time, nor do I want her to be given ideas about answers to possible future questions ahead of time.  I want to see how she answers in the moment.
How old is dad? 40  -of course she gets his age correct :)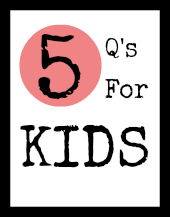 What does dad do with his friends? goes to work, calls work friends, go fishing  -Dad works from home so she sees/hears him on conference calls a lot.

What does dad dream about? go fishing for a big adventure  -I had to revisit this question a few times, she initially said, "I don't know" after a few minutes I asked again and she said, "I *still* don't know!"  So I then waited a third time and prefaced it by asking  her to think about what she dreams about, what I dream about and then to use her imagination to figure out what Dad would dream about.
What does dad do after you go to bed? eats and watches a movie, play with a ball  -at first she said he comes down stairs and helps me clean up, which he doesn't do, I reminded her that's what I do and asked again what she thought Daddy did.  Daddy does eat a lot at night :)
What does dad do for fun? play with me inside when it's raining, fly tying with me, play outside, work on his computer
What is dad's job? work, on his computer, in his shop
<div align="right"><a href="http://www.pleasesleepin.com" title="Please Sleep In"><img src="http://i1347.photobucket.com/albums/p702/pleasesleepin/linkbuttonno_zpsf04e3392.png" alt="Please Sleep In" style="border:none;" /></a></div>